A Week of Training, Personal Coaching, and Inspiring Masterminds Designed For ENFPs and INFPs
Prague, Czechia August 23rd to August 27th, 2022
"I was really impressed by the group of people Dan had at the event. It was a pleasure meeting everyone for the workshop and for beers afterwards."
- Simon Whistler, Celebrity YouTuber, Special Guest at The Prague Event, August 2019
"Because I was able to be fully focused I've made much faster progress and I feel more motivated and inspired than ever. It was an amazing experience and I'd highly recommend it for someone who wants to really push forward but finds themselves getting held back by the day to day demands on them."

Kelly Parker
"I felt a belonging to a community of people from all walks of life who share the common goal of a desire for a more purposeful existence through creativity and expression of their inner selves. Yeah, I know that sounds pretty flowery, but I mean it. I felt a very deep connection with everyone there after the 5 days and truly miss everyone."

James Humphreys
"I really want to come, but I just need to justify the expense. What am I going to learn that's different than online?"
 Julie asked a good question. Julie is a member of ENFP Unleashed One-on-One Coaching Program.
Obviously she has gotten a lot of value from this program or she wouldn't be so keen to attend this event, but like most of us, needed a little reassurance before taking the leap. So I told her…
"Books, Digital and Online Programs are great for learning and some level of personal development…but humans are social creatures. Our mind is designed interaction and engagement with other people. 
AND YES, this is 10x the case for ENFPs like you! The biggest changes in my own life have all come from connections I've made at events and the influence people close to me had on my destiny. 
If there is something holding you back from a big change, whether:
Changing Careers, Countries, or Partners
Taking Your Business To The Next Level 

Pursuing Your Passion Publicly 
The best way to counter fear and inertia is the energy of your tribe. It is when you're in a tribe that you'll feel and be your best, and be able to climb mountains that once appeared impossible. 
This Is For You
It is cheaper, easier, and more profitable for me to host my programs exclusively online. I hold in person events, like Life Design Fiesta 2022, because despite the extra effort they:
Are the most powerful way to help you get where you want to be.
Create intense bonds and friendships.
Are actually a lot of fun for myself and everyone who attends!
Now…keep all this in mind as you imagine the combined energy, positivity and support of 15 ENFPs and INFPs coming together.
Yes…I can think of no better way to interrupt bad patterns, destroy limiting beliefs, or initiate a change and life upgrade.
See you in Prague. Dan. 
I always customize my events to the attendees and keep things fluid. No one likes to be locked in a conference room looking at PowerPoints all day.
How To Thrive In Uncertainty and Changing Times
Aligning Your Life & Personality
For Fun, Fulfillment, and Wealth Generation
For Energy, Abundance, & Accountability
Overcoming Slumps, Staying on Track and Finishing Strong
How To Handle The Inevitable Ups and Downs Life Will Throw at You
Learn How To Surround Yourself With Inspiring People Who Will Literally Pull You Forward
These are optional! If you're there, we will have them. If not - well, no!


7 Day Event Ticket
Your Complete Ticket To The Event
$
2495
Complete Event Ticket
5 Days of Training, Coaching and Masterminds

2 Additional Days of Social Events

Includes Snacks, Refreshments, and Group Tours and Activities

Includes One VIP Dinner with Dan + 2 Other Guests
Frequently Asked Questions
When is the event?
The event runs from August 23rd to August 27th 2022 with optional social events on the 22nd and 28th.
Travel Guides and Where To Stay
A 14 page travel guide including accommodation and things to do will provided to everyone.
How much will accommodation cost?
While not as cheap as it once was, Prague is still a very affordable city. Depending on your tastes, you can expect to pay between $50 and $150 per night for accommodation in the city center. I would budget between $40-$75 per day for other expenses.
Can I stay with other attendees?
My team will be happy to match you up with one or more people attending and help facilitate sharing accommodation. Prague has plenty of large (2-3 bedroom) apartments you could share, or even just staying in the same hotel. Just write us after purchasing your ticket.
Can my partner/spouse attend?
Yes. In the past people have attended with their partners (both as paid guests) as well as having their partner/kids come along for the trip, but not attend the actual event. The choice is up to you. We already have one ENFP ENFP power couple attending this year 🙂
Will there be other older/young people?
Yes! We always draw a mixed crowd. Generally the group has a "soul age" of around 27-45. So if you are a fun 60, or a wise 22, you'll be just fine.
Is the event tax deductible?
Yes. In most countries, including the USA, the event, flights, meals, and accommodation will all be tax deductible. Depending on your income and accommodations, this may feel like "a free trip to Europe".
Will there be opportunities to work with Dan one-on-one?
There is a maximum of 15 people at the event. So, within the event itself you'll have plenty of interaction and personal attention from Dan.
Event Cancellation
Like all other Dreams Around The World events, if I say it will happen, it will happen. Short of very serious illness, the event will happen so it is safe to purchase your flight, book accommodation etc. If I get hit by a tram I'll find someone even more awesome than me to run things. Really.
Covid
Czechia has no covid restrictions, on entry, or once you are here. This is very unlikely to change.
Which airport should I fly in from?
The Prague (PRG) airport is a 15 minute taxi, or 30 minute transit ride, from the city center. There are frequent direct flights from New York, London, and Dubai.

If you're looking for a flight deal or to add another city or two onto your trip for free, consider flying into Berlin, Munich, Budapest, or Vienna and then taking the train to Prague. I suggest using Kiwi.com for the most flight options.
Refund Policy
If you are unable to attend the event due to external circumstances beyond your control, such as natural disasters or travel restrictions, we can offer a full refund. If you choose not to attend, you may choose between a 50% refund, or to have the full price of the event as a credit towards future events, programs, or one-on-one coaching (with no expiry date). If you attend the event and do not feel I (Dan), the training, or the environment have met, if not exceeded, your expectations you can request a refund before the lunch period on Day 2. I will refund 100% of your ticket price within 48 hours, plus I will pay you $100 cash.
About Your Host, Dan Johnston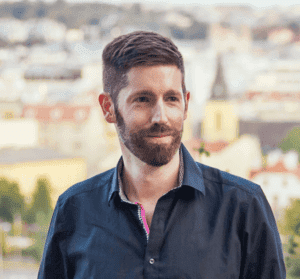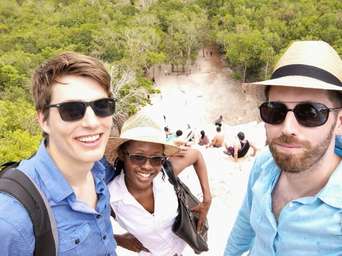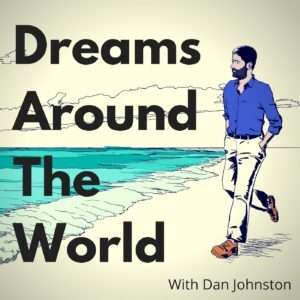 Hi, I'm Dan. I'm the founder of Dreams Around The World, the Author of a dozen books, and the creator of The Free Freelancer, ENFP Unleashed, and Life Design Fiesta.
I want you to know my purpose with this event is for you to get results AND have a ton of fun while connecting with inspiring people. Read the testimonials from past events to get a sense for what this event will be like.
Since you'd likely prefer to learn from someone who walks the talk, I'll share a bit more about my experience below:
I've created two successful location independent businesses, first as a freelance writer and then as a coach and trainer.
I've lived in 9 countries while growing my businesses.
I've sold 10,000s of books Over 20,000 students are enrolled in my online courses.
I've built a successful YouTube channel with 61,000 subscribers and 100s of videos as well as a popular podcast
I love psychology and personality type and use it a lot in my training. I don't believe in a one size fits all approach. You should build your life and business around your personality.
Alright, that's the last bragging I'll do on this page, I promise!
7 Day Event Ticket
Your Complete Ticket To The Event
$
2495
Complete Event Ticket
5 Days of Training, Coaching and Masterminds

2 Additional Days of Social Events

Includes Snacks, Refreshments, and Group Tours and Activities

Includes One VIP Dinner with Dan + 2 Other Guests
This event isn't for everyone. If you'd like to ask a question, or set up a phone call to discuss your specific situation, please fill out the form below and we will be in touch within 24 hours. 
The Guidance, People, and Tools To Create Your Life
Free Yourself From "At Home Pressures" and Develop Your Own Vision For Your Life
Accelerate Growth and Decision With In Person Energy and Support
Bring It All Together and Take Lasting Action To Make a Big Change